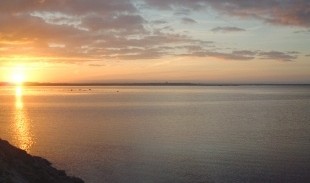 Sea Breeze Lodge B&B *****
Overlooking beautiful Galway Bay !

9 Cashelmara, Salthill, Galway, Ireland.
Tel: 00 353 91 529581
Galway Cathedral. ( Mass times, see below.)
The Cathedral of Our Lady Assumed into Heaven and St Nicholas (Irish Gaelic: Ard-Eaglais Mhaighdean na Deastógála agus San Nioclás), commonly known as Galway Cathedral is a Roman Catholic cathedral in Galway, Ireland and is one of the largest and most impressive buildings in the city. The cathedral is the seat of the Bishop of the Diocese of Galway, Kilmacduagh and Kilfenora.

Construction began in 1958 on the site of the old city jail, and in 1965 was finally dedicated by Cardinal Richard Cushing to Our Lady Assumed into Heaven (Mary, mother of Jesus) and St Nicholas.


Architecture:

The architecture of the Cathedral draws on many influences. The dome and pillars reflect a Renaissance style. Other features, including the rose windows and mosaics, echo the broad tradition of Christian art. The Cathedral dome, at a height of 44.2 meters (145 ft), is a prominent landmark on the city skyline.


Controversy:

On an early episode of The Late Late Show a debate was held on the Roman Catholic Church. Brian Trevaskis, a young student, criticised the Bishop of Galway for spending so much on a cathedral instead of helping the poor. Trevaskis described the building as a "monstrosity" and referred to the Bishop as a "moron".





Galway Cathedral.
Galway Cathedral.
Galway Cathedral.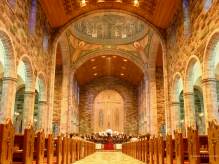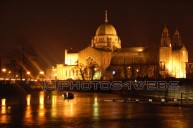 Masses in Galway Cathedral

Sundays:

Vigil 18:00
Sunday 09:00
10:00 Aifreann as Gaeilge
11:00 Sung Mass: Cathedral Choir
12:30 Sung Mass: Cantor-led singing
18:00

Holy Days:

Vigil 18:00
Holy day 09:00
11:00
18:00

Weekdays:

Monday - Friday 09:00
11:00
18:00

Saturday:

09:00
11:00


https://www.galwaycathedral.ie/liturgy/mass