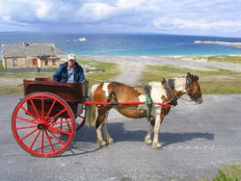 Sea Breeze Lodge B&B ****
Overlooking beautiful Galway Bay !

9 Cashelmara, Salthill, Galway, Ireland.
Tel: + 353 91 529581
Aran Islands

Visit the Aran Islands in the west of Galway.
Ferry tickets ( Available at Sea Breeze )
25.00 Euro per person round trip.
20.00 Euro for students and 65 and over.

- Departure from Sea Breeze Lodge 9.30 AM

- Return from the Island: : 5.00 PM

No holiday to Ireland would be complete without a trip to the mystical
Aran Islands that are situated in the middle of Galway Bay.

Rossaveal is the departure point for the ferryboats to the Aran Islands.
The rugged, natural beauty along with
thatch roofed stone cottages that dot the islands provide a splendid
example of Celtic and early Christian heritage and gives one the impression that they have just traveled back in time.

Inis Mor is the biggest of the three islands, covering approximately sixteen square miles. Situated on the west coast of Galway, about thirty miles out in the Atlantic Ocean, the island offers a whole new meaning to the word 'Paradise'. Each island proudly sustains a year long population. Inis Mor has a population of approximately 900 people which grows in the summer-time, becoming a mixture of islanders, mainland locals and holidaymakers.
With the archaeological sites, some dating back 2,500 years, it's hard to believe that the island actually had a form of civilisation.
The forts, churches and monasteries will leave you in bewildered awe at how people lived on this rock infested island. The islanders still speak their native language but will have no problem in communicating in English.
While a lot of island-income comes from the fishing industry, most islanders make
their money from tourism and therefore the summer months are vital in terms of comfortable living throughout the rest of the year.

Inis Mór is the most developed island in terms of tourist facilities while still retaining a sense of old world living and a peaceful atmosphere.
Whether you visit Inis Mór to relax or to work, to study flowers or to take pictures,
(or simply just to have the craic), you'll find that it is a unique place that creates an indescribable sense within, that artists and writers have been expressing so well throughout the years.


Getting around Inis Mór

Bicycle Hire : €15.00 per bike + deposit.

Mini Bus Tours : Guided tours are provided by some of the island's local characters.
These tours can be very entertaining and are well worth it.
The tours can last anything up to two and a half hours and prices start at €10.00 per person.


Pony and Trap: Traditional, leisurely and with a certain magical feel to it, this is the ideal way to travel around the island.
7 days a week all year round.
Aran Islands Tours.
Aran Islands Tour.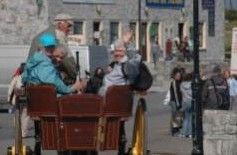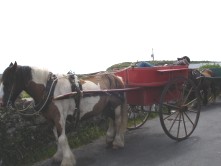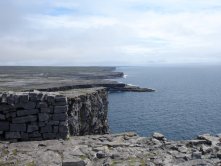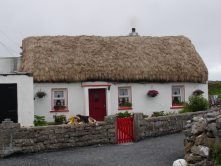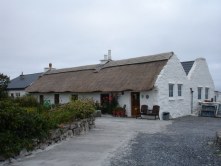 Or hire a pony and Trap:
High Cliffs, Aran Islands in Galway Bay. Tatched cottage. Typical houses, Aran Islands.
Galway Bay Islands.