galway oyster festival 2013.
galway oyster festival 2013.


The Sunday Times (London) declare the Galway
International Oyster Festival as one of the 12 greatest
shows on earth.

The Irish love their oysters and Galway, one of the most
unspoilt and spectacular regions of Ireland, is no
exception. Every autumn, Galway City hosts the Oyster
Festival where visitors can sample "the taste of the sea".
For four days and nights, Galway celebrates as guests
from all over the world consume the local oysters,
Guinness and other gourmet delights. The festival started
in 1954; in 1960 the film director John Houston consumed
3,000 oysters; and in 1982, 40,000 oysters were eaten in
one sitting.
Highlights of the festival include the popular World Oyster
Opening championships, a champagne and oyster
reception with the Mayor of Galway, the Oyster Pearl
Contest, the parade of flags, a vintage car display,
street entertainments, musical bands and an
all-night disco. The festival ends with a magnificent
banquet accompanied by the finest wines and liquors.

Enjoy four days and nights at the world renowned Galway
International Oyster Festival.

For the best in gourmet seafood, live music and the best
Guinness in town, it has to be the Galway Oyster Festival
2017.

From the 22nd-24th September 2017, Galway City will come
alive with seafood & oysters as it celebrates the 59th Galway
International Oyster & Seafood Festival, the most internationally
recognized food festival in Ireland and the world's longest running International
Oyster Festival.

About this Gathering
Each September, Galway City comes alive as it celebrates the
Galway International Oyster & Seafood Festival. It is the most
internationally recognised food festival in Ireland and the
world"e;s longest-running international oyster festival.
Throughout the festival, a host of events take place to whet
your appetite. Festival-goers will have an action-packed
weekend, including: an electrifying musical line up, celebrity
cook-offs, quality Irish seafood, the National Oyster Opening
Competition, the World Oyster Opening Championship,
tantalising meals in Galway best restaurants, the
glamorous black-tie gala ball, a colourful parade through the
streets of Galway, and plenty of fun and laughter. Sample the
world-famous Galway Bay oysters and the legendary craic of the West of Ireland at one of the biggest events on Ireland's social calendar. For 2017, there will be a new Tribal Shuck Off event on Sunday 29th September. Entry is as follows: - You must have a link with one of the 14 "e;Tribes; of Galway,
the merchant Famillies that drove Galway's prosperity in from mid 13th - 19th Centuries - Athy, Blake, Bodkin, Browne, D'arcy, Deane, ffont, French, Joyce, Kirwan, Lynch, Martin, Morris, Skerritt - You must be non resident in Ireland -
You must be able to open a minimum of 15 oysters in 120 seconds Contact us on nfo@galwayoysterfest.com to enter.
Galway Oyster Festival 2013.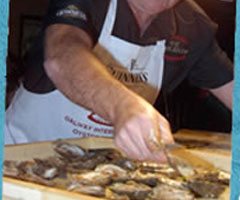 Galway Oyster Festival 2017

FESTIVAL MARQUEE • GOURMET SEAFOOD • LIVE MUSIC
22ND- 24TH SEPT 2017
Galway International Oyster Festival.